News and Press Releases
January, 2010
View the article from Today's Sunbeam on the Dedication of the Sustainable Energy Center on January 15, 2010. View more photos.
May 20, 2009
Fly over video of the base
February 25, 2009
NJN News Special (Click to view video)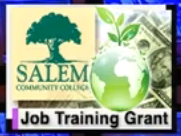 January 21, 2009
EFP welcomes South Jersey Sports Zone to the complex.


January 20, 2009
SCC Receives $1.7 million Energy Technology Grant
Today's Sunbeam

December 18, 2008
Green Energy Apprentice Program Set for Vo-Tech
Today's Sunbeam
June 11, 2008
Town Considers Wind Energy Rules
Today's Sunbeam
June 3, 2008
Group offers look at work on ex-base
Today's Sunbeam
May 16, 2007
Energy Freedom Pioneers closed on the property in Pedricktown. Construction to begin on June 1, 2007

May 5, 2007
Energy Freedom Pioneers to buy lot
Today's Sunbeam
March 5, 2008
Salem County Board of Chosen Freeholders Meeting Minutes